My friend
Aviva
turns 30 today. These are some things that I know about Aviva:

1. Aviva has one of the best sets of breasts I've ever seen/touched/admired and not only are they fantastic but they feed her son delicious nutrious milk. That's fantastic.
2. Aviva is an activist and is inspiring in her involvement on both a local and a global level.
3. She is a lawyer who finds tax law fascinating...that's right I said it.
4 Aviva made moussaka the other day before coming out to celebrate birthdays on Church Street. A woman who can make crazy new recipes in between getting hypnotized by a new baby and going out with debauched friends is a woman who is unstoppable - she will break you if you try.
5. She can speak Spanish
6. Aviva taught me how to knit without dropping a needle so that my grandmother would stop mocking me (to this day I owe her a knitini for that)
7. She loves to be on adventures which can involve any combination of the following: Camping, canoes, fresh air, smoky air, martinis, high end dresses, making out with girl/boy friends, expensive meals, mcdonalds, gstrings, drag queens, rock music, symphonies, french, spanish, montreal or tea at home with knitting and music. That's right this woman does it ALL. I've tested this theory and have had too much fun doing so.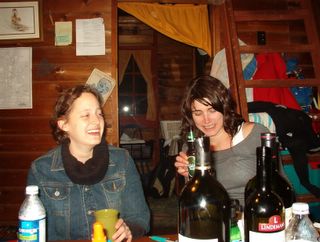 Cottage

8. Aviva is greatly involved in human rights and not only can she talk the talk she walks the walk in her own life. This stuff is serious shit, yo.
9. Aviva gave birth to beautiful baby Max and is a kick ass mother! I will fucking cut you if you say otherwise.
10. Aviva is the friend who "happens" to drop you a line right when you think you're going to stab your own eyes out with stress unwittingly saving your life or in the very least your eyesight.
Happy Birthday Lady Friend.